Chair, Condominium Law; Co-Chair, Construction Law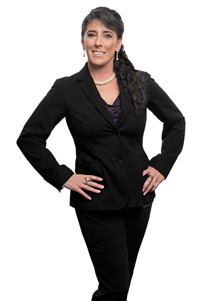 Elissa Gainsburg is a founding partner of Pardo Jackson Gainsburg, PL. For more than 25 years, she has focused her practice on construction and property-related matters, from the inception of a project to its completion. She handles all elements of projects for the firm's developer and contractor/subcontractor clients, including drafting and negotiating construction contracts and lender agreements. She guides clients through the complicated legal issues that may be encountered during the construction and completion of a project, including resolutions with all parties, condominium turnovers and negotiations.
In drafting complex construction agreements, Elissa is instrumental in providing protections for her clients should future disputes arise and helps them to avoid conflicts by anticipating potential needs and issues. Elissa also handles commercial leasing for numerous clients and their large-scale developments, ensuring coordination between clients, their lenders and tenants.
As a litigator, Elissa is responsible for managing a caseload of complex property-related litigation matters from inception through trial. She also appears at administrative and quasi-judicial hearings. Having lectured on the Florida Statute 558 condominium turnover process and representing condominium associations, contractors and developers in a variety of turnover processes and litigation, Elissa is intimately familiar with the intricacies of the turnover process and has been instrumental in achieving successful resolutions for her clients in these matters.
Elissa is well-versed in all areas of dispute resolution, representing clients in a multitude of mediations, arbitrations and litigation. She has a successful track record of efficiently and effectively resolving highly contentious matters for her clients.
As a result of her close relationships with her clients, Elissa frequently serves as general counsel to developers and contractors who do not need the services of a full-time, in-house general counsel. When required, Elissa can be found on-site for active development projects. In doing so, she provides legal guidance on a multitude of matters, including employment issues, residential and commercial leasing matters and a variety of vendor and service agreements. She frequently assists her clients with licensing issues and also serves as litigation counsel in the event of a dispute.
As a construction and property specialist, Elissa often is called upon to present detailed lectures on construction law topics to other lawyers and those in the construction and development industry.
Significant Representation
Representation of developers of multimillion-dollar developments with as many as 500+ condominium units in contract negotiation and preparation, development issues and closeout.
Representation of developers in condominium purchaser litigation regarding hundreds of condominium units.
Representation of multiple high-end condominium associations and master associations in multimillion-dollar construction defect and lien claims.
Representation of construction industry companies and others in wage and hour litigation.
Negotiation and preparation of corporate documents for numerous entities.
Representative Clients
Owners/developers, contractors architects, and engineers such as the Faena companies, Integra, Hyperion Development Group, Mist Towers Limited Partnership, Plaza Construction, Williams Island, Sieger Architectural Partnership, Portofino Tower, Porto Vita South Tower, Tao Condominium, The Related Group, Il Villaggio, Atlantic Gulf Communities, Central Parking, LAZ Parking, Groupe Pacific, Florida Engineering Cocowalk, 10295 Collins Avenue Hotel Condominium Association (One Bal Harbour), Balmoral Condominium, Jade Ocean Condominium, Mei Condominium, Continuum Master Association Condominium
Education
J.D., Hofstra University School of Law, 1993
B.A., Marketing Hofstra University Hempstead, NY, 1990
Bar/Court Admissions and Certifications
Florida Bar Association
Miami-Dade County Bar Association
New York Bar Association
United States District Court for the Southern District of Florida
United States Supreme Court
Awards and Recognitions
Rated AV Preeminent 5.0 out of 5
Professional Involvement
Member, American Bar Association's Construction Law Forum and Construction Law Section
Member, South Florida Builders Association
Member, New York State Bar Association
Member, Florida Bar Association
Member, Federal Bar Association
Lectures
Florida Construction Defect Claims
Advanced Construction Issues in Florida: New AIA General Conditions, Condominium Defect Litigation and ADR
Advanced Construction Law in Florida
Florida Construction Law: What do you do when
Construction Management/Design-Build in Florida
Construction Law for Attorneys in Florida
Construction Contracting for Public Entities in Florida