Chair, Construction, Hotel and Litigation Groups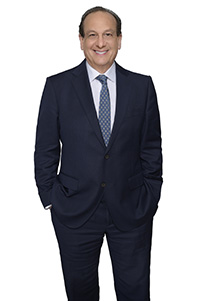 Stevan Pardo is a leading authority on Florida construction and corporate hospitality law. During the past 39 years as a construction and business litigator, Stevan has represented companies involved in virtually all aspects of the construction and business industry including owners, contractors, design professionals, subcontractors, sureties, and insurers.
One of his construction specialties is representing condominium associations after developer turnover, including construction defect claims and accounting claims, arising out of the turnover of condominium property to unit owners.
His legal representations have also included delay and defect claims arising out of commercial and residential, high-rise residential, hospitality and resorts, multifamily, retail, and office construction projects.
Stevan's clients rely on him to advise them on all aspects of the delivery of construction and engineering projects, from procurement and the drafting and negotiation of contracts, to contract administration, the avoidance and resolution of disputes, and insurance matters.
Stevan has developed an impressive track record representing developers and investors in multimillion-dollar real property transactions, including purchases and sales, joint ventures, and residential and commercial development.
He has also been at the forefront of Florida Condominium Association lawsuits against Hotel Condominium structures involving several branded and independently operated hotel condominium properties.
Stevan brings a unique perspective to the real estate side of his practice because of his 25 years of personal experience as a real estate developer and a hotel owner, builder, and operator. His own experience handling complex construction, buying and selling properties, and negotiating with lenders, has given him deep insight into the world of construction and renovation and has served to enhance the legal advice and business strategies he provides to his hotel clients.
As a result of his practical knowledge, Stevan is well-versed in both the business impacts and legal aspects of his clients' real estate and construction endeavors. His real-world experience has helped Stevan to become a go-to attorney when negotiating and implementing real estate deals in Florida and across the country. Stevan's distinctive business background also has given him a unique ability to troubleshoot difficult projects for clients before they devolve into full-blown disputes, and to craft business solutions to his clients' business problems. When necessary, however, Stevan brings extensive trial experience in representing clients before the Florida courts, federal courts, mediators, arbitration panels, and appellate courts.
Other key areas of Stevan's expertise include working with franchisors and franchisees, management companies, vendors, and insurers. Drawing from his real-life experience in hotel ownership, Stevan provides his clients with insight into the business aspects of a legal decision and the legal effects of a business decision.
Stevan has developed relationships with various hotel franchisors, including Ritz Carlton, St. Regis, Marriott, Hilton, Hyatt, and other well recognized industry flags. This holistic combination of legal experience and hospitality industry knowledge brings a critical and essential benefit to Stevan's hotel and resort clients.
Stevan's membership in the Hotel Trade Organizations and Young Presidents Organization (YPO) Hospitality, Real Estate and Construction Networks allows him to remain current on issues relating to the business and legal challenges in today's construction, real estate, and hospitality community. His role as a member of the Executive Committee of the local YPO Chapter enables Stevan to keep his pulse on the trends, changes, and challenges facing the construction, real estate, and hospitality community in South Florida, the United States, and internationally.
A strong believer in pro bono work, Stevan has committed his legal and construction skills to bettering his local community. Stevan formerly served as the Chair of the City of Miami Beach Historic Preservation Board. In that role, Stevan combined his experience as a real estate developer, a lawyer, and a resident to balance the importance of historic preservation with development. Stevan also served as both construction and legal consultant to a large new community center in his neighborhood. He was the President of the Venetian Island Homeowners Association for several years and spear headed the historic preservation of the Venetian Causeway, a historic link between Miami and Miami Beach, was President of Temple Beth Sholom and is a long standing member of the Duke University South Florida Regional Board.
Prior to launching his law firm, Stevan, an AV-Preeminent rated lawyer for several years, was a partner and leader of the construction litigation department of Greenberg Traurig, where he practiced law for more than a decade.
Significant Representation
Consulting with national hospitality companies on hotel product expansion in selected markets in the U.S. and abroad
Representation of multiple high end condominium associations and master associations in multimillion-dollar construction defect and lien claims
Representation of property owners in class action multimillion-dollar ad valorem tax reimbursement claim
Representation of national construction company in grand jury investigation regarding construction industry practices and related civil litigation
Negotiation and preparation of corporate documents for new technology ventures
Consulting with national private equity firm and developers on public/private partnership of billion-dollar development
Representation of hotel condominium association and hotel condominium owners in Bankruptcy Court as creditors and claimants in adversary proceedings
Representation of national construction companies in multiple multimillion-dollar contract claims
Representation of national architectural firms in multimillion-dollar design defect litigation
Representative clients
Broward County, Pompano Beach and Miami Beach; owners/developers, contractors, architects, and engineers such as Lionstone Development, Faena, BEA Architects, Hyperion Development Group, Plaza Construction, Costal Construction, Williams Island, Sieger Architectural Partnership, Portofino Tower, Porto Vita South Tower, The Related Group, Il Villaggio, Florida Engineering, Kobi Karp Architects, Fisher Island, Cocowalk, Jade Ocean Condominium, Jade Signature Condominium, Flatiron Condominium, 87th Park Condominium, Ocean Club Towers Condominiums, Mar Azul Condominiums, Mei Condominium, Continuum Master Association, One Bal Harbour, Balmoral Condominium, National Hotel
Education
J.D., Duke University Law School, 1984
B.A., Public Policy, Duke University, summa cum laude, Phi Beta Kappa, 1981
Bar/Court Admissions and Certifications
Dade County Bar Association
Florida Bar Association
United States District Court for the Southern District of Florida
United States District Court for the Middle District of Florida
United States Bankruptcy Court, Southern District of Florida
Florida Supreme Court
Eleventh Circuit Court of Appeals
Awards and Recognitions
Recognized by Super Lawyers since 2021
Recognized by Best Lawyers since 2019
Rated AV Preeminent 5.0 out of 5
Recipient Dade County Bar Association Luminaries Award – Real Estate Development/Transactions
Miami Beach JCC, Community Service Award
Duke University "Forever Duke" Award (University Service Award)
Professional Involvement
Member, Construction Lawyers Society of America
Member of the American Bar Association's Construction Law Forum and Construction Law Section
Past chairman of the Construction Defects Committee of the Construction Law Section of the American Bar Association
Former Vice-Chairman of Dade County Bar Association Construction Law Committee
Member Advisory Board of Duke University's Law and Entrepreneurship LLM Program
Board Member, Duke South Florida Alumni Association
Member, Young Presidents Organization (YPO)
YPO Chapter Chair and Executive Committee Member
Former, South Florida Builders Association, National Association of Home Builders, Latin American Builders Association
Member, Academy of Florida Trial Lawyers
Member, Academy of American Trial Lawyers
Member Federal Bar Association
Lectures
Florida Construction Defect Claims
Advanced Construction Issues in Florida: New AIA General Conditions, Condominium Defect Litigation and ADR
Advanced Construction Law in Florida
Florida Construction Law: What do you do when
Construction Management/Design-Build in Florida
Construction Law for Attorneys in Florida
Construction Contracting for Public Entities in Florida
Community Involvement
Former President and Current Board of Trustee Member, Temple Beth Sholom, Miami Beach
Former Chairman Miami Beach Historic Preservation Board
Former Board of Governors Member, Miami Beach Chamber of Commerce
Miami Beach Jewish Community Center, Construction Committee Chair
Greater Miami Jewish Federation – Former Chair – Attorneys Division
Co-Chair, Duke Law School, 40th Reunion
Married to Adrienne Friesner Pardo
Children: Daniel, Carly and Joshua