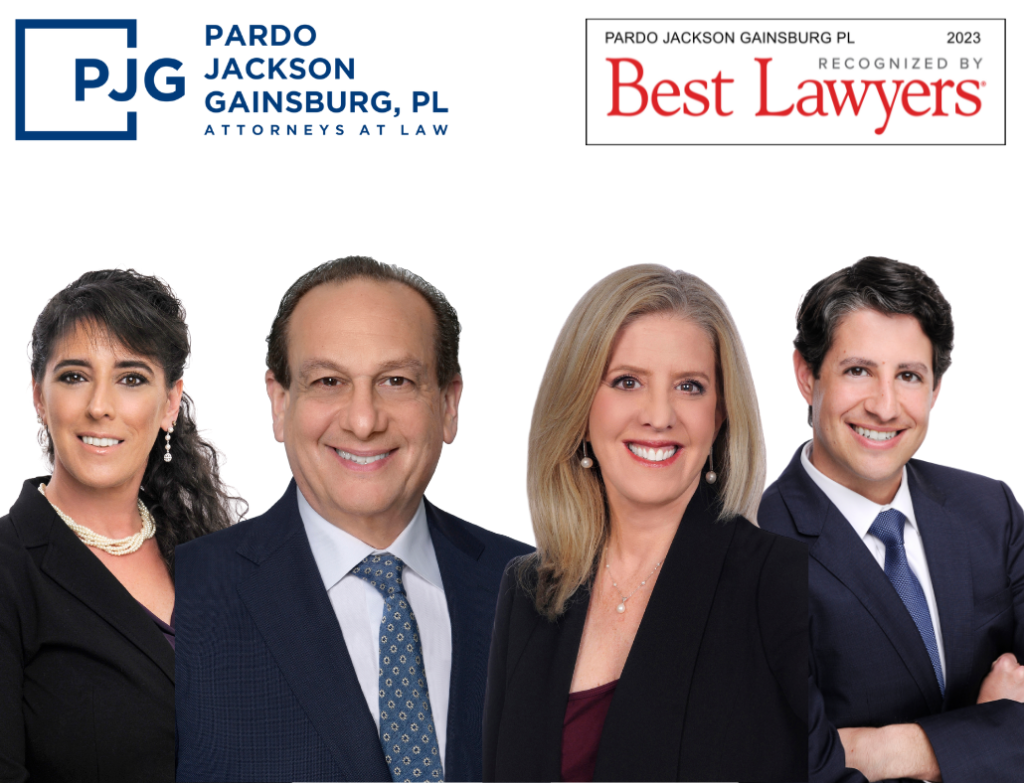 MIAMI, FL – August 18, 2022 — Pardo Jackson Gainsburg PL is pleased to announce that four of its lawyers have been included in the 2023 Edition of The Best Lawyers in America®.
They are:
As a construction litigator for the last 38 years, Stevan has represented companies involved in all aspects of the construction industry including owners, contractors, design professionals, subcontractors, sureties, and insurers. He is adept at handling construction defect (558) cases, complex construction, buying and selling properties, and negotiating with lenders.
Linda has spent the last 30 years representing lenders, debtors, committees, creditors and purchasers in all phases and types of bankruptcy matters in cases all over the country. She also advises clients on sophisticated mergers and acquisitions, financing and general corporate structures.
Elissa is a founding member of Pardo Jackson. She has spent the past 25 years focusing on construction and property-related matters, from the inspection of a project to its completion. As a litigator, Elissa is responsible for managing a caseload of complex property-related litigation matters from inception through trial. She also appears at administrative and quasi-judicial hearings.
Michael concentrates his practice in the areas of real estate and construction law. His real estate practice includes representing clients in matters related to the acquisition, lease, sale, financing and development of retail, residential, multifamily and various other commercial properties. Michael focuses his construction practice in advising owners, contractors and developers regarding contract formation, administration, breaches, delays, terminations, claims evaluation, lien and litigation strategy.
Lawyers on the list are divided by geographic region and practice areas. They are reviewed by their peers on the basis of professional expertise and undergo an authentication process to make sure they are in current practice and in good standing.
Best Lawyers has published its list for more three decades, earning the respect of the profession, the media, and the public as the most reliable, unbiased source of legal referrals. Its first international list was published in 2006 and since then has grown to provide lists in over 75 countries.
Since it was first published in 1983, Best Lawyers has become universally regarded as the definitive guide to legal excellence.
ABOUT PARDO JACKSON GAINSBURG, PL
Pardo Jackson Gainsburg, PL is a Miami-based business law firm that represents clients in all areas of corporate matters, real estate, construction, hotel/hospitality, creditor's rights, and commercial litigation. The firm handles all types of business matters, with an emphasis on complex commercial transactions and bankruptcies, construction litigation and real estate. It also represents clients in all types of corporate transactions, including loan origination and workouts; contracts and mergers; and acquisitions.