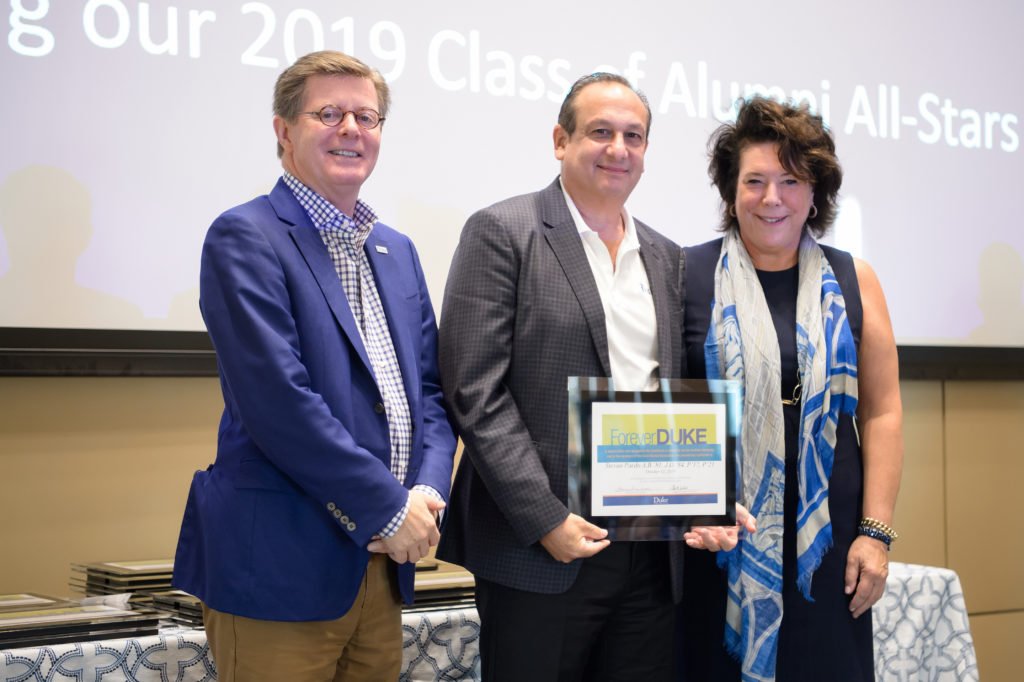 MIAMI, FL – October 25, 2019 – Pardo Jackson Gainsburg & Shelowitz, PL, is pleased to announce that its founder, Stevan Pardo, was awarded the Forever Duke Award on October 12, during the university's Homecoming celebration. The honor is given to those who exemplify exceptional volunteer service to Duke and its alumni association.
Stevan earned both his undergraduate degree in Public Policy and Juris Doctor degree from Duke. Since graduating in 1984, Stevan has served as a guest lecturer and mentor to students of the undergraduate and law school programs. He also has chaired several reunions.
Pardo Jackson Gainsburg & Shelowitz, PL also has sponsored a number of Duke events taking place in South Florida, including a breakfast for alumni at eMerge Americas, the premier technology event that connects the Americas.
Stevan's daughter, Carly is a Duke graduate and his son, Joshua, is in his third year there. His brother and law partner Jeffrey Pardo, and Linda Worton Jackson, Chair of the Bankruptcy/Restructuring and Corporate Transaction Groups, also are Duke alumni.
ABOUT PARDO JACKSON GAINSBURG & SHELOWITZ, PL

Pardo Jackson Gainsburg & Shelowitz, PL is a Miami-based business law firm that represents clients in all areas of real estate, construction, hotel/hospitality, litigation, creditors' rights, and corporate matters. The firm handles complicated business and construction litigation, with an emphasis on complex commercial, construction law and insurance defense, and represents clients in corporate transactions, including loan origination and workouts, contracts and mergers and acquisitions. The firm has been recognized by U.S. News – Best Lawyers® as among "Best Law Firms" in the Miami metro area in both Construction and Real Estate law.