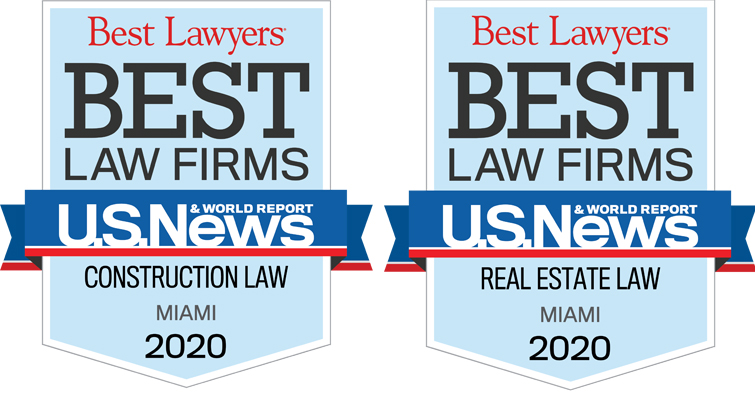 MIAMI, FL – Nov. 1, 2019 – Pardo Jackson Gainsburg & Shelowitz, PL is pleased to announce that the firm has been recognized by U.S. News – Best Lawyers® as among "Best Law Firms" in the Miami metro area in both Construction and Real Estate law.
Pardo Jackson Gainsburg & Shelowitz, PL serves a diverse client base in the construction industry, including owners, developers, contractors, subcontractors, suppliers, engineers and architects. Its clients are involved in all types of projects, including public, private, commercial and industrial.
The firm's real estate attorneys are widely respected for their knowledge of the market and their ability to handle complicated and high-stakes matters. Their capabilities span all aspects of the industry including acquisition and disposition, leasing, economic development, financing, workouts, construction, land use regulation, and management of all types of properties.
Firms included in the 2020 Edition of U.S. News – Best Lawyers "Best Law Firms" are recognized for professional excellence with consistently impressive ratings from clients and peers. To be eligible for a ranking, a firm must first have a lawyer recognized in The Best Lawyers in America©, which recognizes the top 5% of private practicing lawyers in the United States. Achieving a tiered ranking signals a unique combination of quality law practice and breadth of legal expertise.
The 2020 rankings are based on the highest number of participating firms and client votes received on record. Almost 16,000 lawyers provided more than 1,229,000 law firm assessments, and more than 12,000 clients participated providing 107,000 evaluations.
ABOUT PARDO JACKSON GAINSBURG & SHELOWITZ, PL

Pardo Jackson Gainsburg & Shelowitz, PL is a Miami-based business law firm that represents clients in all areas of corporate matters, real estate, construction, hotel/hospitality, creditor's rights, and commercial litigation. The firm handles all types of business matters, with an emphasis on complex commercial transactions and bankruptcies, construction litigation and real estate. It also represents clients in all types of corporate transactions, including loan origination and workouts; contracts and mergers; and acquisitions.